Carleton-Faribault PAR Collaboration
In October 2018, Carleton College, in collaboration with the Faribault Public Schools, Somali Community Resettlement Serivices, and Community without Borders, received a grant from the Corporation for National and Community Service to design and implement a participatory action research (PAR) project.  The co-PIs for the grant are Anita Chikkatur (Department of Educational Studies, Carleton College), Amel Gorani (Director, Center for Community and Civic Engagement (CCCE), Year 1), and Emily Oliver (Associate Director, CCCE, Year 2). The grant was renewed for a second year in October 2019.
The town of Faribault which is located in Rice County, Minnesota has a population of approximately 23,000. In the past decade, Faribault's population has gone through a rapid demographic change, partly because of its growing Somali population. According to data from the Minnesota Department of Education, 19% of students in Faribault were identified as Latinx and approximately 7% were identified as Black in the 2009-2010 school year. By 2018, 20% of the students were identified as Latinx and 20% were identified as Black, with the majority of the Black population in Faribault being identified as coming from an African immigrant/refugee population, mainly Somali. This rapid change in student demographics in less than a decade has not led to parallel changes in the teaching force in Faribault. Like many small towns adjusting to such changes in the racial and ethnic make-up of their communities, Faribault has been facing challenges in terms of ensuring that all students complete high school and pursue higher education.
Over the past two years, the grant has funded five community research groups that worked with staff and faculty from Carleton College to learn about research methods and ethics and implement various ways to collect information about the experiences of Somali and Latinx students and parents in Faribault. Because this project has involved students, parents, teachers, administrators, and university staff and faculty, it has drawn on principles of Youth Participatory Action Research (YPAR), Teacher Action Research (TAR), and Community-Based Participatory Action Research (CBPAR).
Please see local news coverage about the grant and Carleton College's initial announcement about the project.
The project's main objective was to understand the experiences of three different stakeholder groups at Faribault High School: Latinx and Somali high school students, their parents, and the teachers who work with those students. The project sought to have the stakeholder groups define, explore, and understand both the challenges they face and the assets they possess, in order to move away from deficit-focused understandings and solutions in racial minority students' educational experiences and outcomes.
This grant aimed to bring together college faculty who have expertise in participatory action research theory and methods, college staff who have expertise in civic engagement philosophy and in developing sustained relationships with community partners, and community members who have personal and professional expertise in their lived context. 
The concerns and interests of community members fundamentally shaped the "appropriate questions, research design, methods and analysis as well as useful research products."
While Carleton College faculty and students have a long history of conducting public-facing research in local communities, including Faribault, social-justice-oriented research conducted by university-based research differs from participatory action research. Andrea Dyrness explains that:
while "activist research often tries to shift the balance of power by changing how research is used," such research does not necessarily change the research process.
This difference was cruicial to how the research process was designed in this project with community researchers taking the lead on decided what and how to research.
The PAR framework provides one way for critical reflection on problems of social inequity, attempting to move beyond the divisions that often exist between universities and their surrounding communities. This project also sought to move beyond recent conceptualizations of civic engagement that focus on the educational value of community engagement for college students (Bailey, 2017), the possibility of transformative learning for college students (Giles, 2014), or as an element in the pedagogy and curricula of college faculty (Grain & Lund, 2016). The project instead was envisioned as a way for Carleton College to foster reciprocal collaborations that center community needs and that support community partners in making Faribault a place where all communities can thrive.
Latinx Parent Research Team
The parent team consisted of five Latinx parents, all of whom had older children who had not graduated from high school and currently had a child enrolled in Faribault High School. The team was recruited by Cynthia Gonzalez of Community without Borders. Cynthia is also a member of the team and served as a translator and liaison between the team and the Carleton team.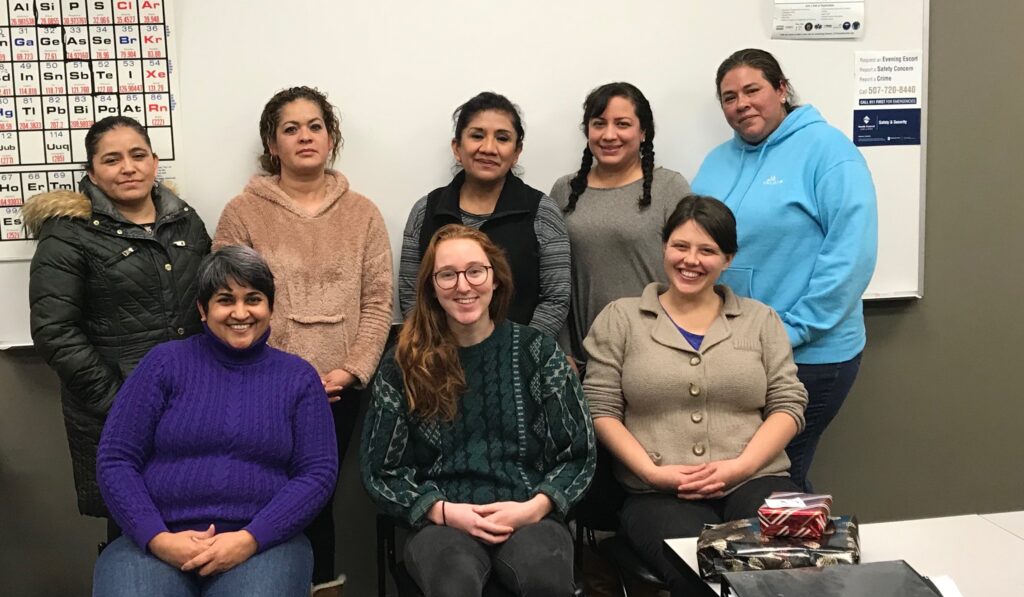 During the first year, a key theme that emerged during weekly meetings of the Latinx parent research team was their sense of urgnecy in terms of ensuring that more Latinx students graduated from high school. Each team member could name several Latinx children who had failed to finish high school in Faribault, including some of their own children. This team also felt that the Latinx residents in Faribault did not have a coherent sense of community, possibly because there was no central gathering place for the community such as a cultural center. The parent researchers were invested in and passionate about finding out more about Latinx parents' experiences with the high school and decided to develop a survey for parents. The survey project received approval from Carleton College's Institutional Review Board (IRB).
The parents wanted to create a baseline of knowledge about Latinx parental experiences so that they could decide on what specific changes  need to be made. They decided to host a community event for Latinx parents to come and take the survey. Despite their great efforts to get the word out about the event (e.g. posting the flyer to the right at local businesses frequented by Latinx residents, creating a Facebook video about the event, asking the high school to mail flyers to all Latinx parents), only five parents came to the event. The parent research team was disappointed, but decided to keep collecting survey responses through other means, such as going to Latinx restaurants in town. They collected a total of 20 responses by the end of May 2019. The survey results were analyzed by three Carleton students supervised by a faculty member in the Mathematics and Statistics department.
The Latinx parent team presented their preliminary findings to school district officials in June. They shared the following results that they found surprising and/or informative from the initial survey analysis:
Most parents had relatively low levels of formal education, which impacts their ability to support their children with their homework.
The majority of parents said that their English levels were "okay" (14/20) and the same number said that they spoke mostly Spanish at home.
11 out of 18 parents said that they had attended at least one parent-teacher conference this year.
While 11 out of 18 parents said that they trusted their children's teachers, 14 parents said that they did not know all of their children's teachers.
12 out of 17 parents said that they did not know their children's counselors.
A majority of respondents (16/18) felt respected by school personnel.
Few parents knew about after-school academic support and enrichment programs offered by Faribault High School and those who did had children enrolled in the programs.
13 out of 20 parents said that their child did not receive help with their homework at home.
The parent team ended their presentation to the school district officials with the following messages:
We want to bring awareness to why Latino students are not graduating.
Because we cannot always support our students with their studies, we want students to get extra support.
We want a program for Latinx students that inspire our children to feel confident and included in all aspects of schools in Faribault so they can be successful.
We want school to be a place where they can feel confident and can get support.
We want ourselves as parents and our young people to build trusting relationship with all of you.
Somali Parent Research Team
The Somali parent team consisted of five Somali parents who had children in the Faribault School District. Because the Carleton team members spoke no Somali and the Somali parents spoke limited English, the team also included two interpreters (a school district employee and an employee from Somali Community Resettlement Services). Because of some initial miscommunication, only one of the parents on the team had a child enrolled at the high school, so the team decided to focus more broadly on the school district, rather than on just the high school.
Listening sessions flyers in English and Somali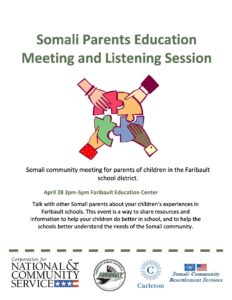 The parent research team decided to hold a community listening meeting for the Somali parents in Faribault to gather information about community members' experiences with the school system. The questions asked by the facilitators during the listening session were developed through a collaborative process between the Somali parent-research team and the Carleton team. Somali parents were recruited to come to the listening session through flyers distributed through the schools and community organizations as well as through word-of-mouth recruiting by members of the parent-research team. This research project received approval from Carleton College's IRB.
On April 28, 2019, parents were organized into small groups with one facilitator (one of the parent-research team members) and one or two note-takers. The discussions were all in Somali. The note-takers included Somali community members from Faribault, Northfield, and Twin Cities, who all took notes in English. Before starting the discussion, the facilitators explained the purpose of the meeting and asked each parent if they were willing to participate. Once their consent was obtained, the parents were asked a few demographic questions before the facilitators started the discussion.
No names were recorded to maintain anonymity and to allow parents to be honest in their answers.
29 parents attended the listening session. All of the participants identified as female. One participant did not have children in the public schools; the other 28 participants had between one to eleven children. The participants had lived in Faribault for between two to thirteen years, with a majority (22) having lived in Faribault for six or fewer years. These parents represented 102 students enrolled in Faribault Public Schools.
These were the main themes that emerged from the listening session:
Concerns about the English Language Learning (ELL) and English as a Second Language (ESL) programs at Faribault Public Schools, especially at the high school.
Concerns that Somali students are not graduating on time.
Need for increasing religious accommodations and supports.
Need for more Somali teachers, para-professionals, and mentors.
Need for more academic tutoring and support for Somali students, especially during after-school programming.
Experiences of Somali students and parents with racial discrimination, cultural misunderstandings, and lack of encouragement.
Reinstatement of community-organized bussing, especially during the winter months.
Concerns about their children's use of technology.
Need to decrease class sizes and increase school choices.
The Somali parent research team wanted their findings to be shared with the school district in the form of a written report, which was prepared by Anita Chikkatur. This listening session as well as an external evaluation of the research team members' experiences made it apparent that the Somali community felt very clear frustration with the school district's lack of response to their concerns. As parents at the listening session and members of the research team noted, they have had multiple opportunities to share their experiences and their recommendations about how to better support Somali students in the district but have not seen substantial changes in school policies or practices.
The student team consisted of six Latinx high school students and six Somali high school students. They were recruited by the school administrators.
During their weekly meetings between January and March 2019, the student team decided that their main question centered on the lower graduation rates of Somali and Latinx students from the high school compared to their White peers. Based on intense discussions about their own experiences at Faribault High School, the student team generated several possible reasons for this disparity:
Students of color often have to work to support their family.
Students of color are not being given the same resources of opportunities.
Mental health reasons.
Students of color are not as involved in school.
Teachers treat students of color differently (teachers relate more to students who are like them).
Counselors aren't informing students.
Parents of color are not as involved.
Students learning English/students new to the U.S. are isolated.
The team decided in April 2019 to conduct a survey of their peers to assess their experiences in the school. After discussing the (im)possibility of obtaining parental permission for all students under 18 at the school (as required by Carleton's IRB), the student team decided that their survey results would be shared only within the school, which meant that the study was not considered "research" as defined by the IRB. Given that the main impetus for PAR projects is change in a local context, this decision made sense. The survey was randomly distributed to 2nd period classes by the school's Dean of Students. The survey was completed by over 180 students and survey results were analyzed by the students with some assistance from a Carleton student.
In June 2019, the student team presented these results and some preliminary analysis to the school administrators, who plan to study the results further over the summer to determine what changes might need to be made at the school to address student needs. The student team members' openness to learning from and about each other and their willingness to share their experiences meant that an important goal of PAR projects, building community across differences, was met. While the survey results will not be shared publicly, a report about the student team's process will be shared more broadly.
Much of what the student team shared about their experiences at the Faribault High School resonated with educational research findings, particularly from research studies conducted in schools with diverse student populations. For example, the student team's comments about how teachers seem to interact differently with White students in informal situations resonate with Bettie's (2014) research on a group of White and Latinx high school students in California. She found that teachers often formed friendlier relationships with students who are "like" them--White and middle-class. Similarly, Lee's (2005) ethnography of Hmong American students at a Wisconsin high school notes that the "good" students at her site were the ones who were on "friendly terms with faculty and staff... They [could] engage in witty banter with teachers and administrators inside and outside of school" (p.28). These kinds of interactions with teachers required a certain level of fluency in English and with mainstream culture that not all students had access to.
Similarly, students' comments about their negative experiences resonate with research findings on stereotype threat and student belonging. This body of research has demonstrated the importance of small gestures--such as knowing students' names--for students who may not already feel like they "belong" at an educational institution because of their race, class, gender, or other social identities. While some of the slights described by students may seem trivial, research note that students "whose groups are stereotyped or otherwise stigmatized tend to be uncertain of the quality of their social bonds" at their schools (Spencer, Logal, & Davis, 2016, p. 424). This kind of uncertainty can make them "especially sensitive to signs that they do not belong," including interactions that may seem "innocuous to others" (p. 424).
The teacher research team consisted of six White teachers at the high school.
After two training sessions about research and racial equity in March and April 2019, the staff research team decided to interview Latinx and Somali students and graduates about their experiences at Faribault High School to investigate the factors that support or hinder high school graduation for Latinx and Somali high school students. This was a practitioner inquiry research project where the teachers focused on their teaching context to generate ideas about how to improve their teaching practices and to ensure that they are effective for all students. Research indicates that "the effectiveness of practitioner inquiry is integrally connected to teachers' sense of accountability, which is strongly activated by a desire to improve the learning experiences of students most at risk" (Nichols & Cormack, 2017, p. 7).
The team's main research questions was "How can Faribault High School provide an equitable and valuable education to prepare racially, culturally, ethnically, and linguistically diverse students for post-secondary opportunities?" To answer this question, the teachers had planned to interview two groups of participants:
Teacher research team's definitions of "equitable" and "valuable"

Interviews with Somali and Latinx young people who were students at Faribault High School and did not graduate. The assumption being that in order to move onto post-secondary options that require a high school diploma, students have to stay and finish high school.
Interviews with Somali and Latinx students who are currently enrolled to find out more about their experiences in school, their ideas and hopes for their futures, what they hope to do post-high school. Students are best positioned to inform teachers about what is working for them and what's not as teachers try to figure out how to ensure that the high school is providing an equitable and valuable education.
Most of the interviews were conducted in English with a few conducted in Spanish. Because none of the teachers are fluent in Somali and it was decided that the presence of an interpreter would make it difficult for students to express themselves, the teachers have decided to only interview Somali students who are able to communicate in English. This study received approval from Carleton's IRB.
The teachers interviewed 18 current students and three young people who had attended the high school. More than half the students were enrolled in the English Language program. Over the summer, one of the teachers coded the data and all of the teachers prepared a presentation for the high school staff based on this analysis. They spoke to their fellow staff members at a staff meeting on October 9, 2019.
The main findings from the interviews included:
Students appreciate staff who help.
Other students can create a less welcoming environment.
Students see themselves as individuals first.
The teachers noted that the students shared almost nothing that was negative in terms of their interactions with staff members, nothing that this absence could be due to the fact that they were teachers interviewing students. They noted that the students expressed concrete goals for their futures, including college degrees, stable jobs, helping their parents, making their parents proud and buying a home for their parents, as well as the more abstract goal of being happy. The students noted that a recent change in administration had led to positive changes in their school.
The students they interviewed also faced challenges during their time at the high school such as having to make decisions about college and explaining everything to their parents; navigating tensions among students; and not feeling represented on the school's student council. The students also spoke about how race, culture, and language impacted their experiences at the school. The teachers chose the following quotes as representative of these impacts:
"It is harder, only because I have to work twice as hard to figure it out and explain things."
"You just have to be the first one to start a conversation."
Harder for Somali girls to join sports (family limitations)
Personal goals, and hopes and dreams of the teachers: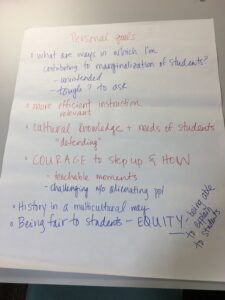 The teachers encouraged their fellow staff members to make sure that they prioritized student voices and relationship-building in their interactions with students. They appreciated the creation of a district equity team and site equity team that will be focused on parent engagement and education so that all parents feel empowered to support their children as they navigate their way to a positive future. They also noted that the school should ensure more equity in participation among different groups of students in school clubs, organizations, and sports teams.
Four community research teams created and carried out their own research plans.
Weekly team meetings created opportunities for students and parents to develop a sense of community among themselves.
Created opportunities for students and parents to share their experiences and ideas with the school district officials.
The student team and Latinx parent team developed a clear sense of purpose and ownership over the project.
Developed stronger relationships between the Carleton team and members of the high school administration.
Developed stronger relationship between the Carleton team and Community without Borders.
Carleton team identified useful PAR resources in English and Spanish.
Carleton team created English-Spanish brochures about academic support programs at the high school to increase awareness of the programs among the Latinx and Somali communities.
Features as a Grantee Spotlight in the June 2019 CNCS Office of Research and Evaluation newsletter.
Presented with parent community researcher at 2019 Midwest Campus Compact Conference (Abdullahi, A., Chikkatur, A., Gorani, A. (May 2019). Bridging the cultural and communications gap in Participatory Action Research (PAR). Midwest Campus Compact Conference, Minneapolis, MN.
Key Findings and Learnings
It's been clear from the work of all four community research teams in Faribault that all stakeholders are incredibly concerned about ensuring that all students graduate high school on time. All teams identified the low graduation rates of Latinx and Somali students as a primary concern. The discussions during the weekly team meetings of the student and parent teams also has made clear that there are gaps in communication between students, parents, and school officials. For example, when the Latinx parent team presented to school district officials, they commented later that they had never met the high school's assistant principal or dean of students. Similarly, an informal conversation between Anita and the district's English Language program coordinator about the report on the Somali parent listening session indicated that there might be conflicting (though equally important) goals in the district. While the Somali parents expressed great concern about Somali students not graduating from high school in four years, the school district sees English proficiency as an important goal. Depending on when students start their education in the U.S./Faribault, it might take them longer than four years to achieve that goal. Research on bilingual education, for example, has found that academic English proficiency can take five to seven years to develop (Hakuta, 2011). These examples indicate that one crucial change needs to be the development of better and more consistent channels of communication between school district officials, teachers, parents, and students about their goals and needs -- an important finding in its own right.
Story Stitch game by Green Card Voices: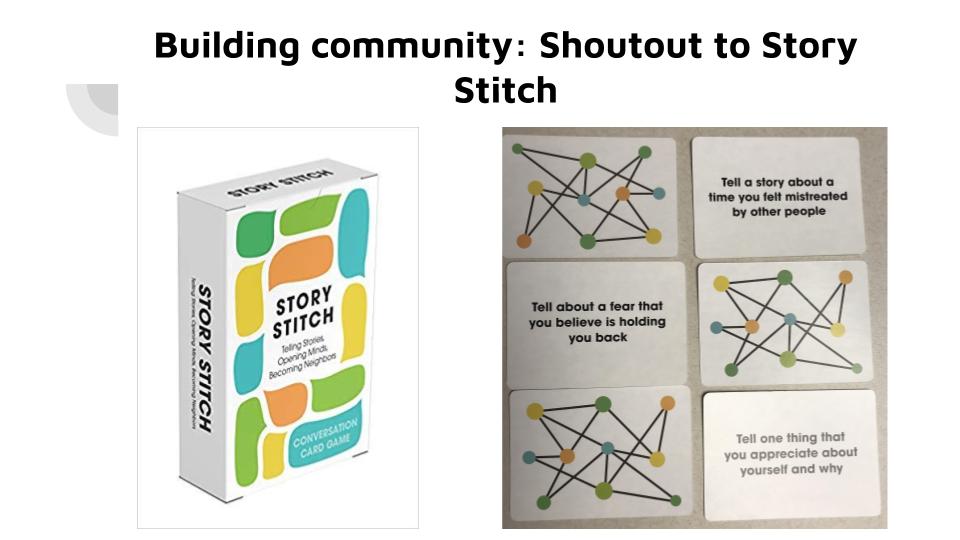 The two parents teams and the student team's experiences demonstrated the clear need for and the importance of taking time to build community and connections within PAR teams. We found the Green Card Voices game, Story Stitch, to be a useful tool across these groups. The parent teams appreciated being able to share experiences with other parents. The external evaluator's report about the Somali parent research team noted, for example,
...prior to their participation in the research, they believed that their challenges were unique to them and that the rest of the Somali community was doing well. However, being in the same room with many parents made them aware that they were not the only ones facing these challenges. The realization that the barriers and difficulties that their children were experiencing were shared by the wider community reduced the stigma and fear of speaking out about these problems.
Similarly, the student team expressed their appreciation for getting to know each other and the importance of the time spent sharing stories and experiences was evident in a moment during their presentation to the school officials. The assistant principal asked them what they could do to encourage more students of color to get involved, and a Latina student said that the school needed to be aware of the barriers that Somali students faced because of the timing of Ramadan and the impact of fasting during that time on their ability to get involved in sports. It was clear that the students had listened carefully to each other's individual and cultural experiences.
Identifying culturally relevant and appropriate resources to share with the community research team has been a crucial factor in enabling and empowering them to do their work. For the student team, having another youth research team work with them around defining youth participatory action research (YPAR) and research methods was key to getting the Faribault students interested and invested in PAR. For the Latinx parents, starting with a viewing of the documentary Madres Unidas about a group of Latinx mothers in Oakland conducting research in their children's school provided an incredible framework and example. For the teachers, providing readings about practitioner action research and a workshop on racial identity and privilege provided a base for their interview study with parents. On the other side, being unable to identify culturally and linguistically appropriate resources for the Somali parents proved to be an obstacle in getting across some of the main components of PAR, which still highlighted the need for culturally relevant materials.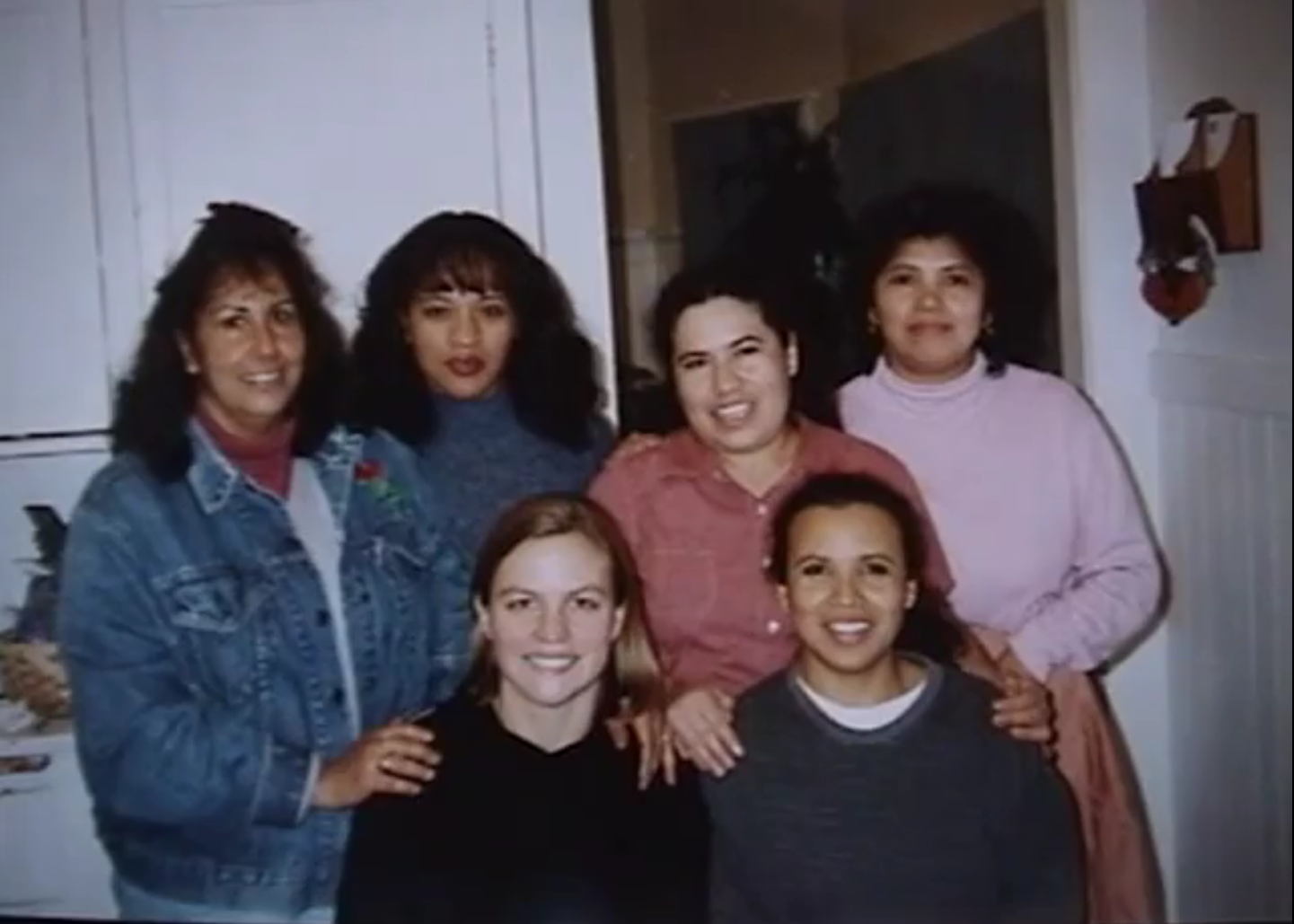 Challenges in Carrying out Work Plan
It's been both exciting and logistically difficult to support four PAR teams at the same time, especially as the Carleton team has tried to provide materials and resources in three languages (English, Spanish, and Somali). Conversations with other CNCS grantees (including Smith College, University of Cincinnati and University of Wisconsin-Whitewater teams) has made the Carleton team realize that our CNCS project has elements that make sense for our context and that make ours a logistically complicated project. For example, compared to Smith College (the only other small college among the grantees), we are working with both adults and minors and with community organizations that are new and not well-resourced. We have also realized how valuable it has been to have Carleton team members who can at least understand Spanish when we compare our experiences supporting the two parent teams (none of us at Carleton have even a basic knowledge of Somali). We have reached out to community organizations and people of Somali descent who work with Somali communities in Minnesota; these connections have been helpful with this year's CNCS grant work and will continue to be helpful for future collaborative projects in Faribault.
The external evaluation of the Somali team made it clear that the parent-researchers did not see "participatory action research" as the framework driving the work they did. There was clear confusion about the distinction between parents as researchers and parents as participants, even on the part of the external evaluator. It was helpful, though, to have the external evaluation report because it indicated clearly that the Somali parent research team's occasional resistance and reluctance to the research project stemmed centrally from a deep-seated sense of skepticism that anything would change in the school district. As noted earlier, they felt that they had fruitlessly expressed many times to the school district what Somali parents and children need. Based on the experiences and findings this year from the Somali parent team, the Carleton team has decided to keep a focus on the Somali community but to work with a different set of Somali community members next year.
Logistics on the Carleton side, especially around paying the community researchers, was also a steep challenge, taking up many hours of the CCCE staff, including those who did not initially have direct responsibility for this project. We have learned that the kind of vision a participatory action research project has for the collaborative relationship between community members and the college is different than the relationships imagined in academic civic engagement class projects or in volunteer work by students.
Drawing on PAR principles, in the first year, each community research team spent time getting to know each other, identifying critical problems pertaining to their community within the school district, deciding on a way to gather information about these problems from the broader community, and presenting this information back to the school district. In the second year, the focus was on action. The action aspect of participatory action research is crucial to what makes PAR projects different from traditional research projects. Researching and theorizing about systems of inequity without proposing and carrying out changes would only replicate those systems. Action researchers make a fundamental commitment to "bring about change as part of the research act" (Brydon-Miller, Greenwood & Maguire, 2003, p. 15). The second year of the project focused on action plans based on the first year's research as well as additional reflection and research as necessary. 
In the second year, two of the research teams continued in a similar format: 
The Latinx team continued with the same five members to continue to learn more about the educational system and to learn more about their own culturally based ideas about education.

T

he student team continued with four of the same students from the first year and eight new students. These two teams met every week from October to December 2019. Because of the challenges posed by the onset of COVID-19, the plan to resume these weekly meetings in March had to be adapted. 
Rather than having a Somali parent team during the second year of the project, the Carleton team decided to support a Somali young adult research team instead. This allowed the Carleton team to provide support in English since it lacked Somali language fluency. Finally, rather than having a research team of teachers in the high school, two equity teams were formed, one at the district level and one at the high school, to implement action plans based on the findings of CNCS research teams from the first year. 
Key Findings and Learnings
Effective communication within and across stakeholder groups has emerged as a key factor in shifting school, community, and individual practices to more effectively support Latinx and Somali students and families in Faribault. The Latinx parent team especially have insisted that parents should be involved more completely in the decisions that the school makes about and for their children. When the school sought their advice about the new program, RISE, for example, the parents spoke about how a similar support program in Northfield often left parents out of conversations. The parent research team expressed very strongly their desire to be informed and educated about what support and advice are
being given to their children by school personnel. As one member put it, "Who
else knows our children better than us, as parents? Sadly, here, our youth
complete 18 years and already they're of legal age for the society. But before they turn 18, many of them don't have the sufficient maturity to choose or determine
the right school, the career." The high school administrators have taken substantial steps to improve communication between the school and Latinx and Somali parents, though there are still improvements to be made. For example, it took the onset of the COVID-19 pandemic for the school district to develop video guides in Spanish and Somali to help parents access the district's online parent portal.
Challenges in Carrying out Work Plan
Because of COVID-19 related school closings and statewide stay-at-home orders, we were unable to continue the weekly in-person meetings of the community research teams.
Latinx parent team
We transitioned to virtual meetings with the Latinx parent team after spending three meetings helping members become familiar with Zoom, Google, and other online tools. The Latinx team has met with community leaders in Faribault and in the Twin Cities to learn about community organizing and civic participation, learned more about community-led efforts to diversify school curriculum, and practiced facilitation skills as the meetings were facilitated by the Latinx parents rather than the Carleton co-PIs.
Somali young adult team
The Somali young adult team was mostly able to transition to online meetings, though the young adults' college responsibilities, work schedules (many team members took on extra shifts to support their families because of the economic impacts of the pandemic), and the timing of Ramadan made it more challenging for this team. It was also challenging to provide them with technical support and the right equipment because we were not able to meet in person. They recorded a draft of an episode about their experiences in Faribault schools. If there is a third year of CNCS funding, the team plans to re-record that draft episode and to make five additional episodes.
Somali and Latinx student team
It was most challenging to connect with the Faribault high school students, given that their weekly meetings had always been right after school, near their high school. The Carleton team was able to reconnect with four of the students, who decided that they wanted to start social media accounts to post positive and encouraging messages to their peers. They all noted that the transition to distance learning was challenging–they missed being able to interact and learn from and with their friends and more easily access support from adults.
Year 2 Achievements and Ripple Effects
Relationships and Community Building
In person weekly meetings (October to December 2019) with three community research teams to learn about community building and participatory action research; online weekly meetings with Latinx parent research team and Somali Young Adult team (April to June 2020).

Video made by Latinx parent research team

 to encourage Faribault's Latinx community to vote in school levy elections in November 2019.

Open forum about racial inequities at the school held outside this summer that was attended by two members of the Somali Young Adult research team. 

Faribault High School Assistant Principal, Joe Sage, chosen by Carleton College for Presidents' Community Partner Award through Minnesota Campus Compact.

Inclusion of a Latinx parent team member and the Carleton co-PIs in discussions post-COVID response about how to make more accessible online platforms for Somali and Latinx parents.

Inclusion of two Latinx parent team members, one student team member, and co-PI Chikkatur in the interview process to hire staff for the new RISE program. 

Somali Young Adult team recorded a draft of a podcast episode about their experiences in Faribault schools.

Development of Carleton College course

Community-based Learning & Scholarship: Ethics, Practice

to be co-taught in Fall 2020 by CNCS Latinx Parent Team Community Researcher Cynthia Gonzalez and co-PI Emily Oliver. They secured an internal Public Works award (sourced from a Mellon Foundation grant) to support this course.

Development of course

Refugee and Immigrant Experiences in Faribault, MN

, to be taught in Fall 2020, co-planned by co-PI Anita Chikkatur and St. Olaf colleagues. The course focuses on challenges and opportunities for people with refugee and immigrant backgrounds and for educators and community leaders to create supportive contexts that meet these communities' needs and aspirations.  

Latinx parent research team member, Cynthia Gonzalez, asked to serve as a "cultural advisor" to the Faribault School Board.
Changes in School-level Practices at the High School Impacted by Year 1 Research
School practices: (1) ending the "no hood/hat" policy that resulted in fewer disciplinary actions against students; (2) changing morning supervision routines to ensure that every student has at least three positive interactions with an adult before first period; (3) monthly meetings between high school administrators and Somali and Latinx parents; (4) creation of high school and district equity teams; and (5) phone calls and letters to parents sent in Spanish and Somali, in addition to English.
Development of a new academic support program, "Realizing Individual Student Excellence" or RISE, to address concerns raised by students and parents during Year 1 about providing academic support during the school day.
All-staff professional development about racial equity and anti-racism at the school.
Summer professional development sessions focused on grading equity that led to a new school-wide grading policy that was implemented in Fall 2020.
Fourteen students, along with Assistant Principal Shawn Peck, attended a youth virtual leadership summit sponsored by the National Youth Leadership Council.
Dissemination of Resources and Findings from Ongoing Research
Presentation by Cynthia Gonzalez (Latinx parent research team), Amina Aden (Somali parent research team), and Emily Oliver and Anita Chikkatur (grant co-PIs) at the CNCS research summit in Washington, DC, in September 2019.

Video made by Latinx parent team

about their PAR experience was presented at the "Imagining America" gathering in October 2019 as part of a PAR workshop led by co-PI Anita Chikkatur.